Common mistakes you should avoid on your website
People who are closely attached to their website often end up applying their preferences, forgetting about the target audience. Unfortunately most of them end up making mistakes which are common amongst a lot of websites out there and in turn suffer a lack of audience.
But we think you should know about these mistakes and avoid or correct them right away. So here they are:
Complex Navigation: Have you ever visited a website and were not able to get to a certain page. Well if you have, then that website has complex or non structured navigation. The only way to get this right is to plan your navigation well in advance, even before actually starting to build your website. You could also use Breadcrumbs to further simplify the navigation on your website. Breadcrumbs provide a trail for the user to follow back to the starting or entry point. You will typically find it placed horizontally on top of a web page.
Too much clutter on page: We all know how it feels to get into a crowded bus; well a heavily cluttered page on your website makes a user feel the same way. There are many websites out there who are trying to put too much on one page itself. This makes it very distracting and uncomfortable for the user to look beyond the clutter and appreciate your work. Spread out your content appropriately and link them to another page if they are interrelated. This will increase your viewership if done right.
Color mismatch: There must have been at least once that you might have reached a website where it is extremely difficult to read the content. This is because of the color of the text and the color of the background being very similar. Take a look at the below image. You will find that the darker font is more readable than the lighter font when used on a light background. Though this seems like a small issue but difficulty in reading can cause your website visitors to look somewhere else for their information.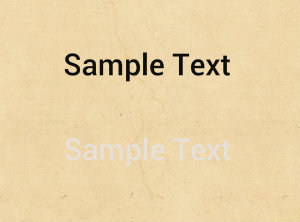 Annoying pop ups: Pop ups on WebPages can be really frustrating for your users. Most of these pop ups are placed as a call to action but there are much better ways to get people to like your page or subscribe to your website. Bombarding them with pop ups is going to drive them away.
Lack of social buttons to share your content: The age of social networking has taken information sharing to an all new level. You can get more eyeballs to your content if people share your content on social networking platforms. If you have still not installed social buttons on your website for easy sharing of your work then you are losing out on a lot of potential audience. Check out AddThis to get easy sharing buttons on your website.
Music on Website: This feature is the thing of the past. Music on the website can get really annoying and distracts your users from the primary content. A must avoid at all costs.
So if you are just starting out to get a new website or already have one, then these are some mistakes you should keep a distance from. Do share your opinion about these points with a comment below.
Leave A Comment