How to Configure Outlook Express for POP3 Email
To modify or add an email to your existing Outlook or Outlook Express account, please follow the instructions below.
1. Open Outlook or Outlook Express.
2. Go to the Tools Menu, and then to Accounts.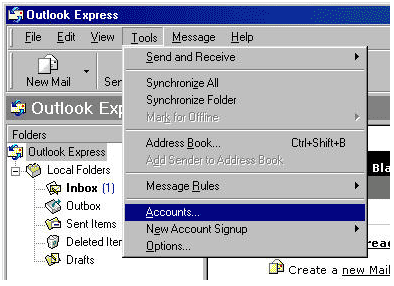 3. On the Internet Accounts window, select the mail account you wish to modify and click Properties to edit the settings for your email account.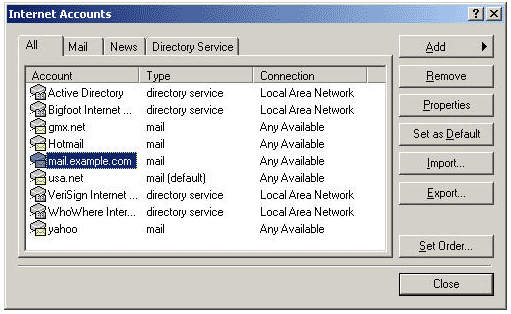 4. On the Internet Accounts window, select the mail account that you want to edit and click Properties to edit the email settings.
5. On the Properties page that appears, choose the Servers tab. Enter your applicable mail.domain.com in the Incoming mail (POP3) field and smtp.domain.com in the Outgoing mail (SMTP) field.
Please Note: Some versions of Outlook Express have the Incoming and Outgoing Mail Server boxes reversed, so take care to put enter the right settings in the right box! Enter you applicable user@domain.com in the Account Name field, and your account password in the Password field. If you would like to have the program save your password, put a check in the "Remember password" field.
6. Check My server requires authentication box and click Settings on the right.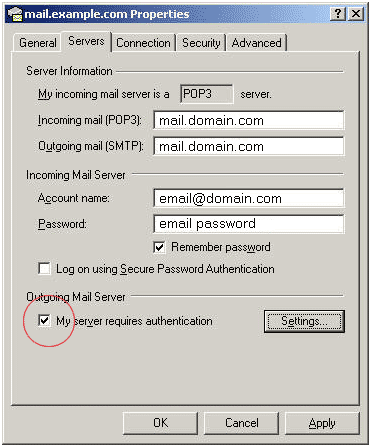 7. Select Use the same settings as my incoming server.
Note: make sure to check Remember password if you don't want to enter password each time you send out email.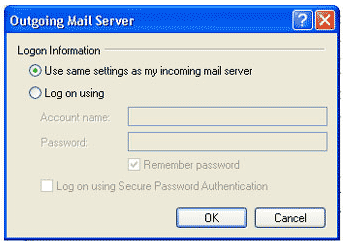 8. Click OK.
9. Back on the Properties page, click Apply and OK to save settings and then close all dialog boxes.
10. Click the "Close" button to complete your account setup
Leave A Comment