Setting up Free Google Emails Apps with your Domain Name
Google apps is one of the best thing there could be for people who want to have their emails powered by the fantastic Google email software. You can have the Google apps working if you just have a domain name without any hosting or have a hosting which is attached with your domain name. In the step by step process below, we have pointed out how you can have a google powered email running for your domain name for Free!
Before starting this process make sure you already own a domain name or if you dont, start by registering a domain name.
1. Start the sign up process by clicking this link: www.google.com/a/cpanel/domain/new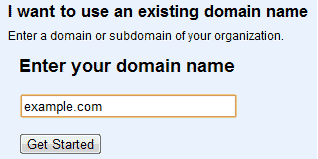 2. Fill in the simple information form
3. Fill username and password for your Google account and continue with the setup.
4. Login with your Google account and manage.
Once you have done this, you would need to make DNS changes by adding MX records as specified by Google for verifying your domain name as well as make sure the emails work for you. If you are using just your domain name then you would need to make the MX changes directly from your domain name admin. If you have hosting account with the domain, then you would need to add the records from the cPanel of your hosting.
We can help you out in both situations if you get stuck anywhere. Just raise a support ticket for the same from your client area.
Related Article:
1. How to order professional google email setup.
Leave A Comment