How to change NameServers for your Domain Name in godaddy.com
Before showing you how to change the Name Servers, let me first tell you why this is important. Name Server change is needed to point your domain name to a web host. Simple put name servers are server addresses (e.g. ns1.speedhost.in) which are used to tell a domain name which server it should call when someone enters the domain name is the browser.
When you buy domain and hosting from SpeedHost.in you do not need to make any such changes as this is automatically done for you. However if need be, you can make changes from your SpeedHost.in domain control area.
How to Set Nameservers in godaddy.com:
For almost all domain name registrars, this procedure remains the same. Let me show you an example of godaddy.com. However you could do similar if you have bought your domain using name.com, domainsite.com, networksolutions.com etc.
1. Log in to your godaddy.com account.
2. Click on Domain Manager.
3. You would see a new window open with a list of your domain names.
4. Check mark the domain name whose name servers you want to change.
5. Nameservers tab gets activated.
6. Click on Nameservers button. A window will pop up.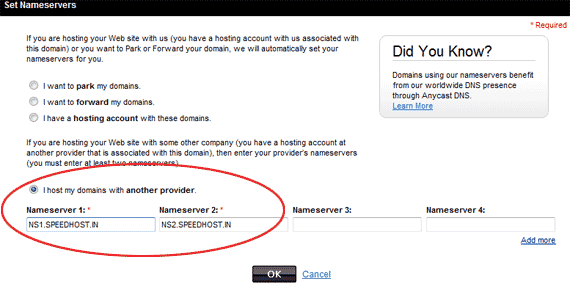 7. Set the Nameservers as show above and press OK.
This is it! You have successfully changes the name servers for your domain name. It may take up to 36 hours for the new name servers to propagate all over the net, usually it is done much faster.
Leave A Comment